Charles Nabholz, President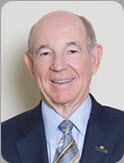 Charles Nabholz founded Nabholz Properties in 1983 after starting his professional career at his family's business, Nabholz Construction.The youngest of 12 children, Charles was raised on a farm three miles east of Conway, Ark. After working for many years with his brothers at the construction firm, Charles started Con-Ark Builders, a merit shop general contracting firm, in 1962.In 1981, Charles accepted the appointment by Gov. Frank White to be the Director of State Building Services, now the State Building Authority.  After serving two years in that position, he started Nabholz Properties; he presently serves as president and also serves as chairman of the board of Nabholz Construction Corp.Throughout his career, Charles has been active in Central Arkansas development, helping create much of the growth that Faulkner County is experiencing today.
He has served on the Boards of Conway Corporation,Conway Development Corporation and Conway Regional Health System. In 2010/2011 he chaired the Steering Committee for Conway Vision 2025. He currently serves on numerous other non-profit boards and  received the 2011, Distinguished Citizen Community Service Award from KARK TV,The Duncan Law Firm,The Office of the Governor and The DHS Division on Volunteerism.
Direct Phone: 501-505-5865
Direct Fax: 501-505-5065
charles_nabholz@nabholz.com