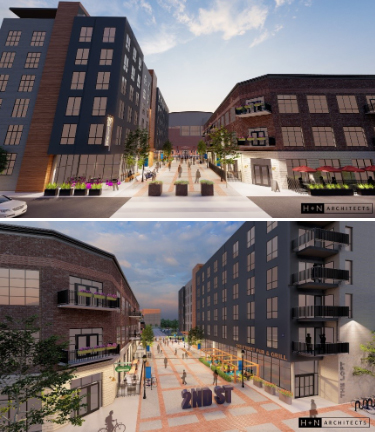 200 Broadway Street is one of four blocks that borders the north side of the Second Street Promenade between Simmons Bank Arena and Poplar Street in North Little Rock. The Second Street Promenade is the primary east -west pedestrian friendly walkway between Simmons Bank Arena and Dickey Stephens Park via the newly renovated One Riverfront Place building.  
The overall vision is to create a pedestrian-friendly corridor by framing out the existing two block part of the promenade with buildings from Simmons Bank Arena to Main Street and Rock Region Metro's Streetcar stop. Working with Rock Region Metro, a plan to extend the trail from the Junction Bridge at Washington Street to the Broadway Street / Magnolia Street intersection is currently in the works that would intersect at the beginning of the promenade at the entrance of the Arkansas Sports Hall of Fame adding the missing north-south pedestrian friendly access to linking the Junction Bridge to Argenta's historic Main Street. 
The development project currently in the planning stages at 200 Broadway Street would include a building on the corner of Poplar Street and the promenade, and one adjacent to the trail and the promenade with a hotel connected to it and bordering the trail extension to Broadway Street. The City of North Little Rock has plans to build a conference center on the south side of the promenade between Poplar Street and Main Street. Future developments could be added to the remaining two blocks. 
By Greg Nabholz
CEO of Nabholz Properties in Conway and Placemaking Economic Development Consultant who has been a resident of Argenta since 2007